Hey Rider…Gran Canaria is waiting for you!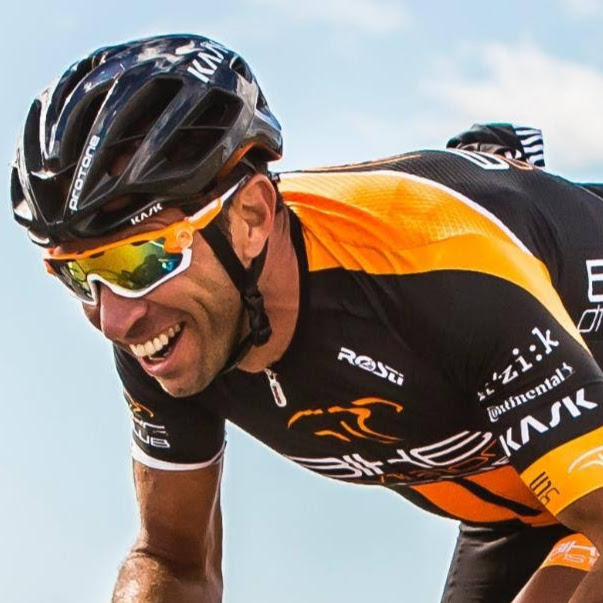 Hello! I'm Andrea Tonti, a cyclist like you and when I was a professional I was a 'climber passer'! Based on the result of the test you just did, do you feel a little bit like him? Obviously it was just a game, but I hope you enjoyed it! 🙂
I've been a professional cyclist until 2010: I took part in 7 Giro d'Italia, 5 Vuelta di Spagna and 1 Tour de France, 4 World Championships, won several races around the world, but I was mainly a team man, trusted domestic for the greatest champions of that moment such as Gilberto Simoni and Damiano Cunego, with whom I won 2 Giro D'Italia in 2003 and 2004, or as Paolo Bettini and Alessandro Ballan, both captains at the World Championships in Salzburg, Stuttgart and Varese, where we have always won the rainbow jersey, conquering the highest step of the podium and an immense happiness.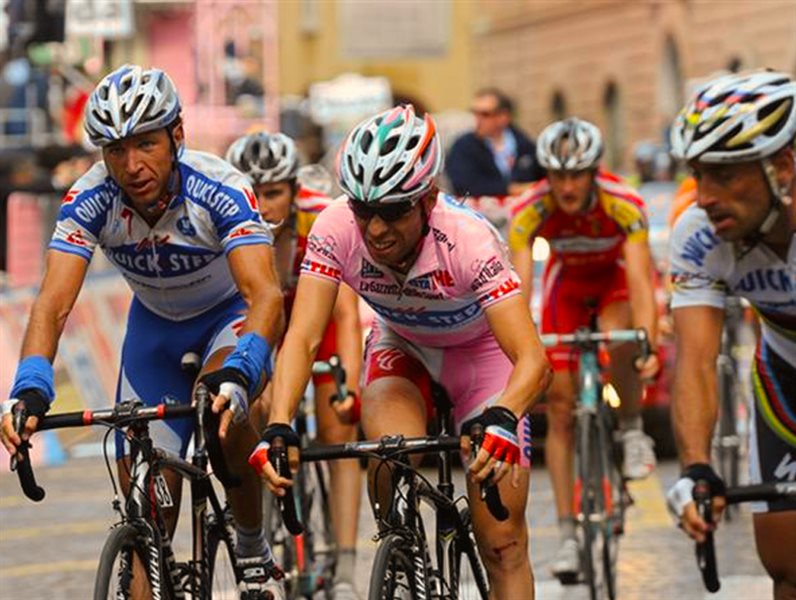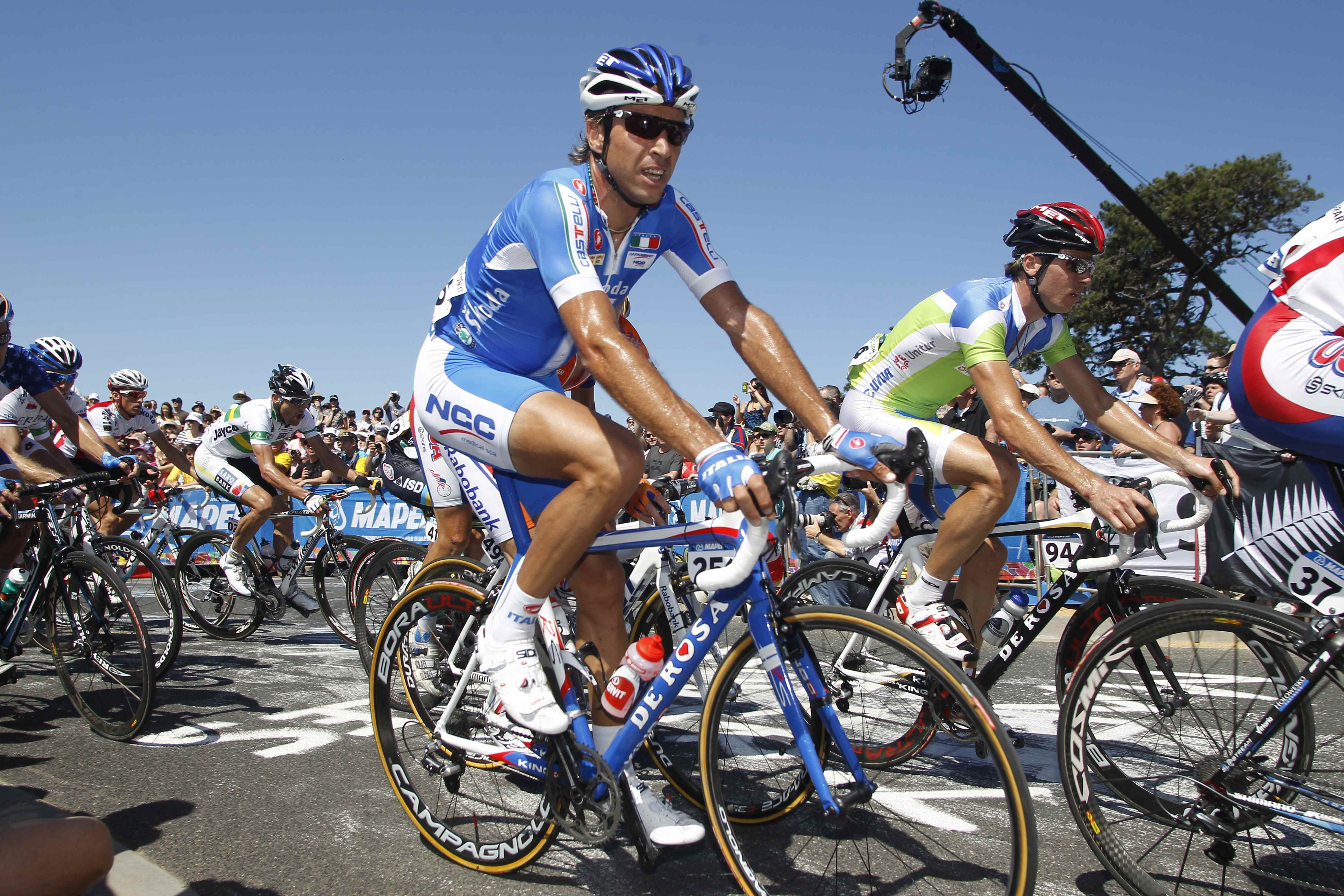 Moreover taking part to main competitions and working hard, I still managed to pass by beautiful places, stay in beautiful hotels and admire amazing territories. I remember the thousands of peaks climbed, the rivers' courses that crossed the valleys, the roads that bordered lakes with wide beaches …and how can I forget about the Italian hills and the hundreds of medieval villages… EVERYTHING UNFORGETTABLE!
You might think everything sounds great …but it's not!
You know, when you compete you don't have the chance to completely enjoy all of this.
There's not a moment with clear mind, that allows you to enjoy what you have around, and so I promised that when I would have stopped the professional activity I would have come back to those places, the places that gave me emotions and that left in my mind an unforgettable memory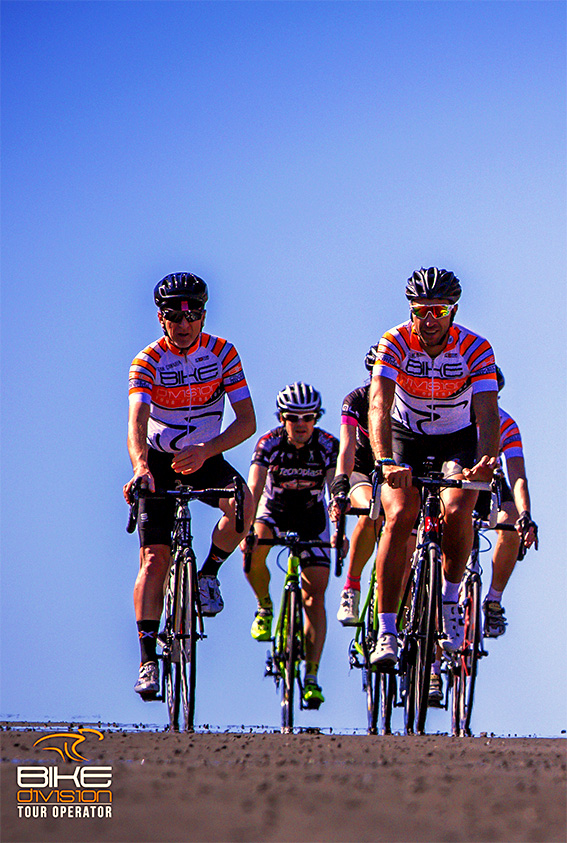 And this is my new goal to achieve:
Let people with my same passion travel to wonderful places, where the taste of cycling merges with the discovery of nature, the cities and the smells that every place brings with it. This is why for almost 10 years I have been guiding a tour operator specialized in cycling trips: Bike Division Tour Operator.
One of the places that I loved the most and where I spent lots of winters training is the island of Gran Canaria!
A place suitable for cyclists. It really seems created to accommodate and make all of us cyclists happy. That's why in Bike Division we have decided to create many cycling tour packages dedicated exclusively to Gran Canaria.
Among the many features of this island, what I love most is its PERFECT CLIMATE. Maybe you do not know that when US climatologists examined up to 600 places to discover the most perfect climate in the world, Gran Canaria was at the top! With its subtropical climate tempered by the trade winds, it is not surprising. This is the only place in Europe where cyclists are guaranteed good weather from the beginning of December to mid-February, while other cycling destinations are too cold to offer the sun even in winter. With its average temperature of 24ºC and 320 days of sunshine a year, Gran Canaria is the perfect place for traveling and cycling.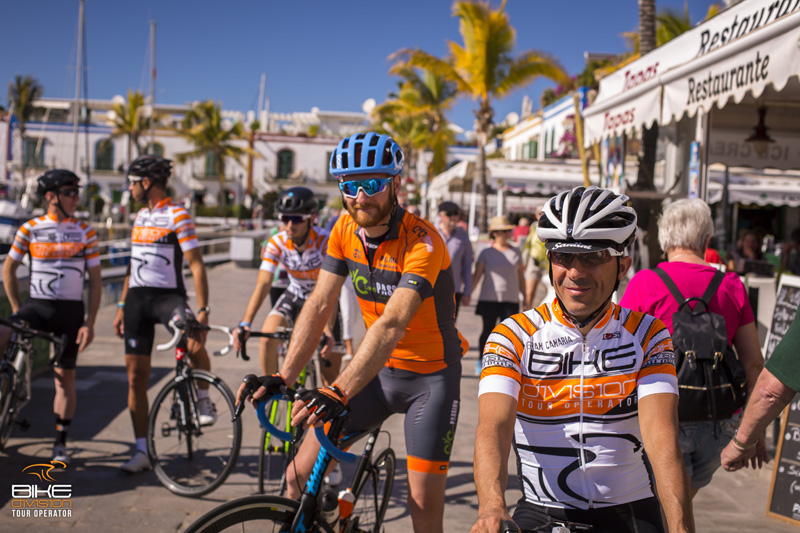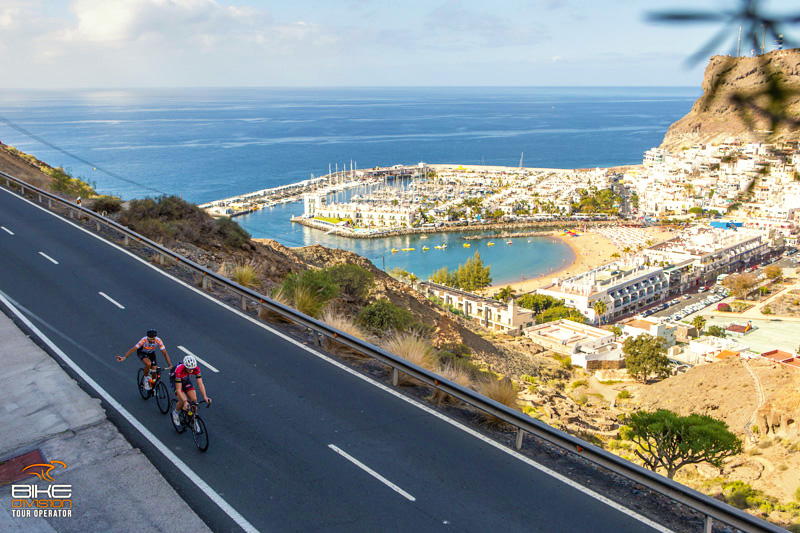 But we know very well that it is not enough for us to enjoy a wonderful beach with a good drink (hey, I did not say that we do not like it … we find the way to do that as well, I'm just syaing that it is not enough!). What we need for our raids, while we feel the heart pumping and the blood flowing in our legs, is having PERFECT ROADS!
Believe me! The streets of Gran Canaria are so perfect that it seems to be inside an F1 racetrack. Traffic almost absent, if not for the local buses that bring tourists and other cyclists around, a great choice of different routes with over 180 km of routes for us cyclists, characterized by varied itineraries that increase their difficulty the more you get into the hinterland, with longer climbs and slopes that oscillate between 8% and 10% , up to touch the highest peak of the island at an altitude of 1900 meters. For those not very trained, however, there are ring routes that start from 30 km up to 80 km that can be faced without problems, but still enjoying superb roads and breathtaking views!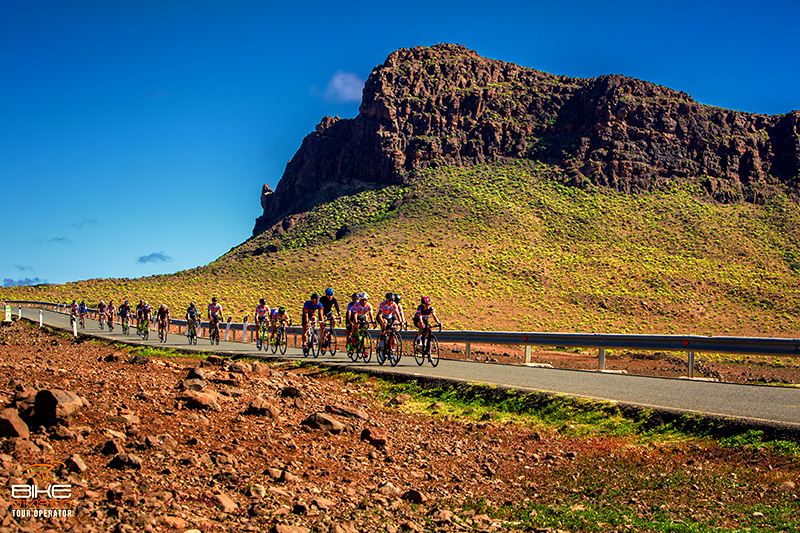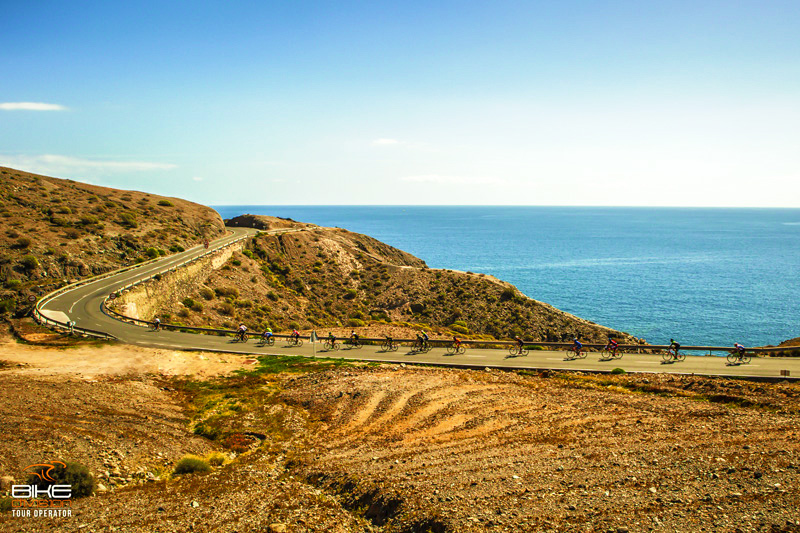 Yes, what you will see around you will leave you breathless, and this is exactly another aspect that I love about this island. Wherever you will direct your eyes you will lose yourself in FANTASTIC VIEWS AND BEAUTIFUL SEA. Most tourists come to Gran Canaria for the beaches and the climate of the island, rather than the landscapes, but these can be just as fantastic as the rest! For example, the view from Cruce de Tejeda, Roque Nublo and Pico de las Nieves. The good news is that the bike will be your best ally for this. Whether you prefer extreme descents or long-distance cycling, your bike will be the perfect companion to visit these unforgettable landscapes.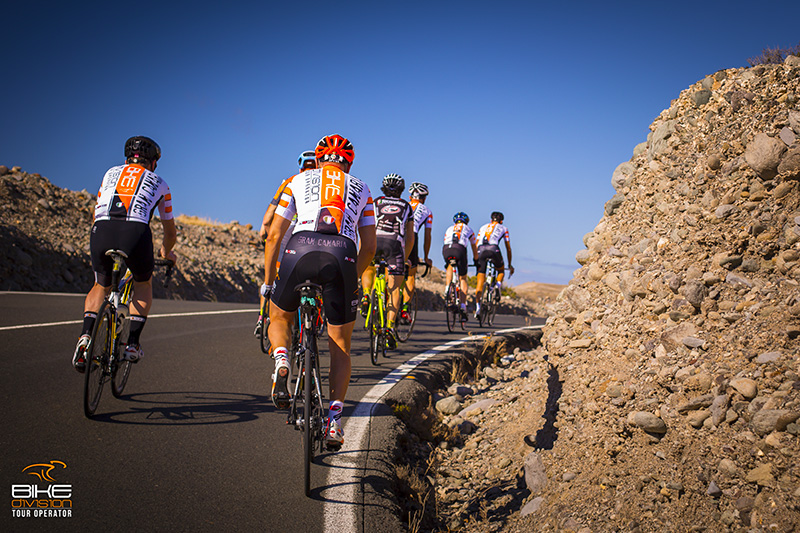 I do not know if you agree with me, but after an intense day of exploration and cycling I want to relax and have all the comforts and "cuddles" that I deserve. In other words, what I look for in the places I visit it's always HIGH QUALITY SERVICES! Even when I get off the bike. You need to know that in the last 15 years Gran Canaria has won the title of Cyclists' Heaven: here you will find 100% bike friendly environment with specialized services for cyclists, professional assistance, great bikes for rent and excellent accommodation.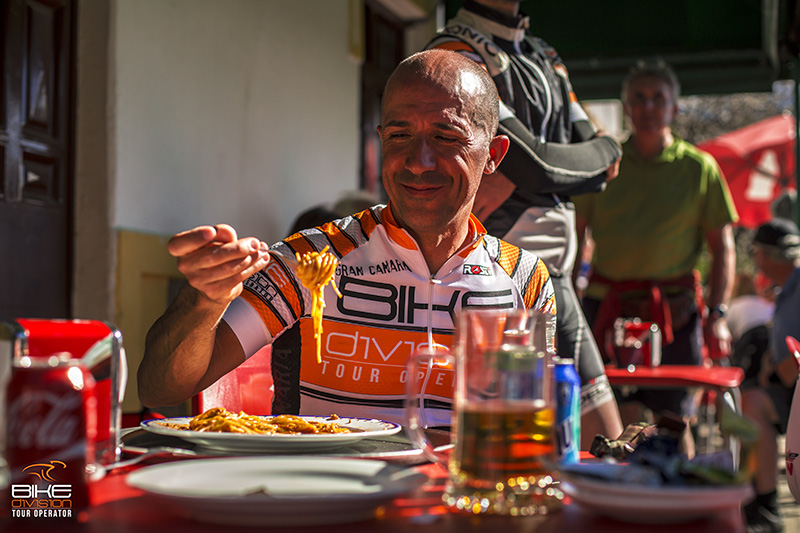 Anfi Group and Bike Division for the best cycling experience ever.
Our packages are the result of the collaboration between my specialized Tour Operator, Bike Division, and the best
5* Vacation Resort on the island, managed by Anfi Group. Combining the best of both our experiences we can offer you a WONDERFUL HOLIDAY on your bike:
one of the best cycling experiences ever!
I stayed at one of the Anfi resorts for the first time about 10 years ago and I fell in love with it instantly! I immediately thought that one day it would become an excellent solution for those, like me, who love riding and having all the comforts that cyclists need. So what could be better than creating a specialized product, with specific services, in the place that I consider the best accommodation in Gran Canaria?
At Anfi Tauro Emerald Club they have wonderful luxury apartments overlooking an impressive golf course and with fantastic sea view. From here you can enjoy breathtaking views. It's the perfect stay for cycling holidays! This place was also chosen by Peter Sagan, Alberto Contador and Tinkoff Saxo Team.
That's why I go there, that's why when I'm there I would never leave, I find everything for me and my family!
Why choosing this destination?
The accommodation offers good services dedicated to cyclists: bike storage, small workshop for simple repairs and bike maintenance, bike wash, dedicated meals, bike rental, expert bike guides to lead you on routes specifically chosen for your level of training.
The accommodation offers services dedicated to those who do not ride: swimming pools, shuttles to different beaches, excursions; while you are cycling, your family spend their time having fun and relaxing while waiting for your return.
Many cycling teams come here to spend their training weeks in hot weather when there is winter season in their country! Only here you can organize a camp suitable for the needs of the cyclist and his companion.
Why booking directly here?
ANFI resorts are so exclusive that they can not be booked directly, you can not find them on regular booking websites, you can not call and book your dream apartment. But don't worry, I was so impressed by this accomodation that I wanted to make a deal, only for us cyclists, through this site dedicated to Anfi and its guests! Anfi believes in cycling and is strongly committed to welcome cyclists and their families in the best possible way, with a special eye for their needs.
Testimonials:
A few lines ago I told you that now the goal of my life is to make cyclists like me feel good in the most beautiful locations. I care that the result and the feel is the same I live, and when I receive testimonials like this I feel really happy and satisfied:
"We had a great time here at Anfi Emerald Club in Gran Canaria. It's really nice to have the opportunity to ride with expert guides and everything is very well organized, from big to small details. I rented the bike and it was set as if it was mine! The assistance is really excellent. This destination is an opportunity that every cyclist should seize!"
Or this other one, about a tour where I was the guide:
"… this is the fourth day of this spectacular week at Anfi Emerald Club in Gran Canaria. When I started the week, I had some problems in downhill sections, I never felt comfortable, but our guide gave me some good tips on how to tackle downhill runs and everything worked out! Now I face those sections in the correct way! And all this happens in the beautiful setting of Anfi!"
DO YOU HAVE ANY QUESTION?
If you want to ask me something more about Gran Canaria and our Cycling Experiences, I will be very happy to give you all the information. I love these places, I am proud of the project we have created, and I am sure that you will be too!
Andrea Tonti
Bike Division Tour Operator